Wolfhart Industries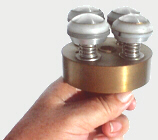 The simplest but most powerful piston actuating mechanism ever created.
---
Introducing the first bearing-less rotary piston design
for pumps, compressors, W-H-motors with new work processes.
The cylinders are half cut off.............................................View in the co-rotating system

Clear water hydraulic at 1000psi Video
First real clear water hydraulic motor and first high pressure water pump
with the bearing-less and oil-free Wolfhart Principle
6 GPM at 1000psi and 3600rpm (max 5000rpm, 2000psi)
No bearings any more for the piston forces
Greatly reduced friction and wear even at high pressure and high volumes
Total oil-free operation - including the piston actuating mechanism
High efficiency
A one stroke working process only
A six cylinder axial rotary piston design
No inertia forces – only balanced rotating parts
The water has never to stop and reverse the flow direction as in a normal piston pumps
Completely hydraulic balance of all sliding parts
Anti blocking device
Anti seizing device for the pistons
Dry running
Self priming
Long lasting
No valves
Typical pump application for this model: 6 GPM at 1000psi and 3600rpm (max 5000rpm, 2000psi)
Adjustable volume (optional)
The second generation with a ceramic rotor for extreme long life times
tests results of this Wolfhart pump - more details of this rotary piston design
Be one of the first to enjoy this new technology
E-mail: Wolfhart@tampabay.rr.com
---
Publications:
US-Patent 6,152,014
"World Pumps"